The Epic Southern Circuit of the Cathedral Range
Sugarloaf Peak via Wells Cave Track - Victoria, Australia
This circuit is epic. This circuit is hard.
The 11km Southern Circuit starts at the Cooks Mill Campsite (Google Map). Going clockwise, it is made up of:
Tweed Spur Road - Messmate Track - Wells Cave Track - Razorback Track - Jawbone Creek Track - Saint Bernard's Track
It's epic because of the amasing terrains and the magnificent views.
It's difficult because both the Wells Cave track and the Razorback track are grade 5 and require quite a bit of rock scrambling. In particular, the Wells Cave track has 2 short sections which are exposed rock ledges and rock walls which are practically vertical. It is borderline bouldering. It's risky enough that I didn't dare to do it solo, at least not the first time. Hence, I asked my brother to join me.
Some stats:
Difficulty: Grade 5

Length: 11km

Accumulated elevation gain: 650m

Highest point: Sugarloaf Peak at 912m
AllTrails map: here.
The preparation
As usual, the photography gear of my choice was my ultra-compact outdoor adventure kit:
Olympus EM5 Mark III

Panasonic Leica 9mm f/1.7 (i.e.18mm-e in FF)

Olympus M.Zuiko 40-150 f/4-5.6R (i.e. 80-300mm-e in FF)
Packed in a chest porch for instant access, the whole kit weighed only 1kg (2.2lbs)! You can't really find anything lighter than this with this image quality and flexibility!
I also had my iPhone 12Pro, for both photo taking and GPS navigation with the AllTrails app with the map downloaded for offline access. All my other hiking necessities were carried in a 10L hydration backpack. For safety, I brought a backup phone, a powerbank, a first-aid kit and a Personal Locator Beacon (PLB).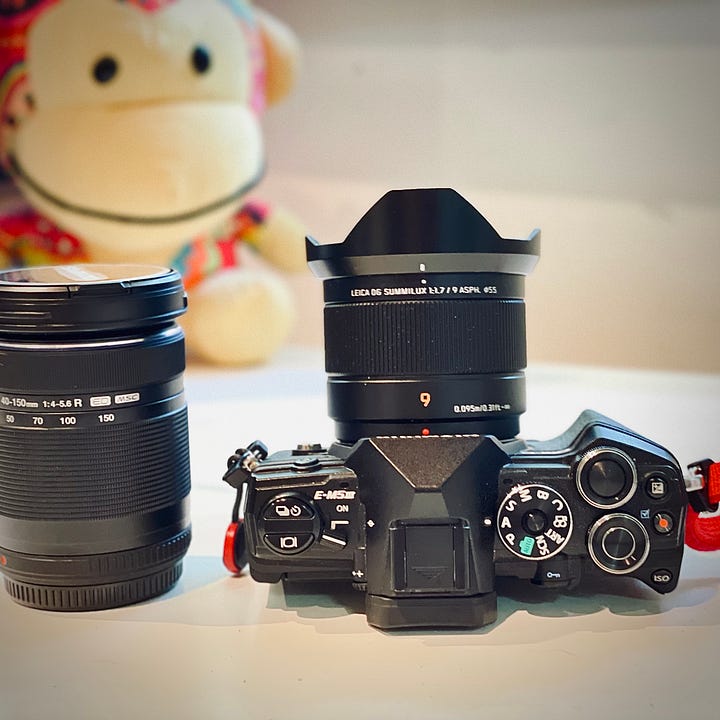 I had estimated this circuit would take 5 hours to complete. Allowing for an extra hour for photo taking, the hike would take 6 hours all up. (And we were pretty much spot-on!)
Sunrise was at 7am. Ideally, to catch the early morning light for better landscape photography, I wanted to do some night hike and reach Sugarloaf Peak at least 1/2 hour before dawn. However I were quite certain the Wells Cave track was too dangerous to climb in the dark. So, I made a compromise. I planned our hike such that we would start the difficult climb after daybreak at around 7:30-8am. Working backward, we needed to leave home at 4am and reach our starting point at Cooks Mill Campsite at 6am.
Cooks Mill Campsite - Tweed Spur Road - Messmate Track
It was mid-May, just end of autumn. Yet, when we arrived at Cooks Mill Campsite, temperature had dropped to 3°C. We had to wear 4 layers and gloves. It took us a while to warm up and gradually take off the layers over the next couple of hours. (The temperature eventually reached 17°C at noon.)
Tweed Spur Road and Messmate track were a breeze. There was a 400m elevation gain. But spread across the 4.5km, it wasn't difficult. It was uneventful.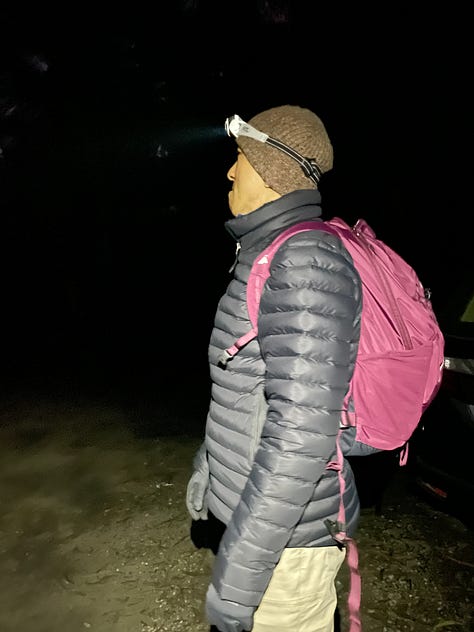 Sugarloaf Saddle car park - Wells Cave Track
At 7:30am, we reached the picnic area at the Sugarloaf Saddle carpark. This was the starting point of Wells Cave track (and the parallel Canyon track), our highlight of the day! We had our toilet break and had some snack before tackling this difficult climb. There were enough signage warning about the danger of this track.
The primary way to navigate here was to follow the orange triangular markers. If you didn't see the next marker after a couple of minutes, you knew you were off course.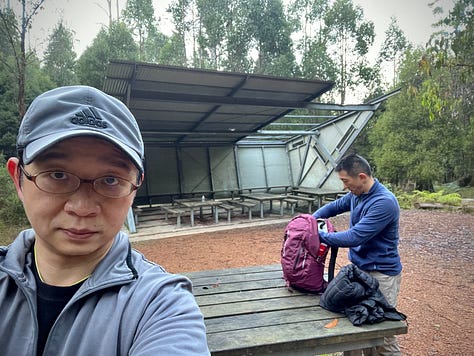 Wells Cave
4/5 way into the Wells Cave track, we reached the Wells Cave. It was not really a cave. Instead it was a very narrow dark passage sandwich between 2 vertical rock walls. At the narrowest section, we had to squeeze through sideway with our backpack taken off.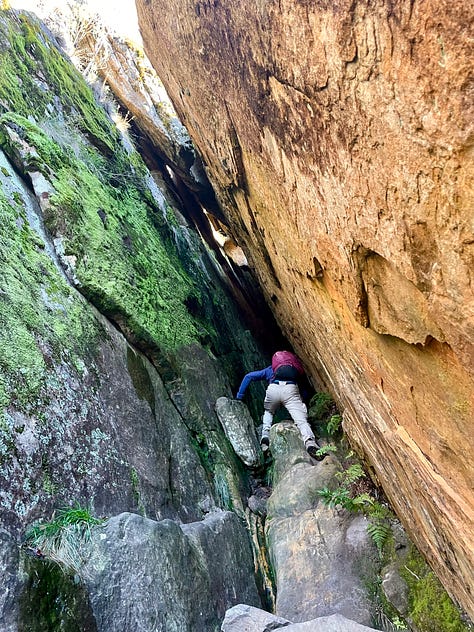 The adrenaline-filled 5 mins of rock scrambling
I said Wells Cave Track had 2 difficult section. One was right before the cave and one right after. The one after the cave was the hardest.
I was glad that in our preparation for this hike we had read a few blogposts and watched a couple of YouTube videos (see References below). We had learned a relatively safe way to climb this section: turn the torso around, "sit" the butt on the wall, and use our legs to push against the free-standing slab of rock to push the body up a small bit at a time. You can see in the sequence of photos below to get an idea how we did it.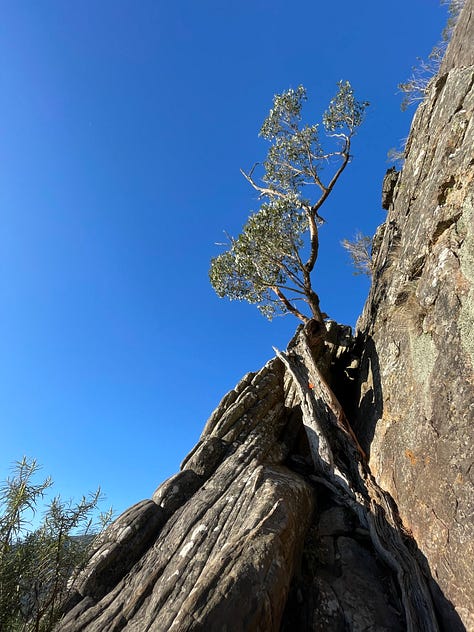 Sugarloaf Peak
Once we went pass the hardest climb, we were at the Sugarloaf Peak. Below us were seas of cloud and mountain ranges. We hanged around at the peak to take photos and relax for ~1/2 hour.
Look towards east, in the direction of Merrijig:
We can roughly make out the distant mountain ranges in the 3D map below.
Look towards west, in the direction of Mount Michell: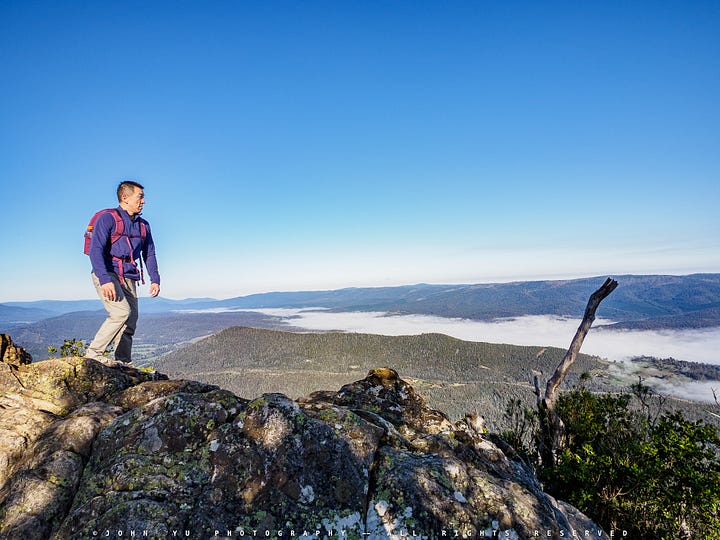 The road visible should be Cathedral Lane.
South Jawbone Peak and North Jawbone Peak viewed from Sugarloaf Peak
Look towards north, in the direction of the ridge leading to Cathedral Peak, it is the stunning view of the Cathedral Range itself:
Match to the 3D terrain map below:
A - Sugarloaf Peak (where we were)
B - Well Cave
South Jawbone Peak

North Jawbone Peak

Cathedral Peak

Neds Peak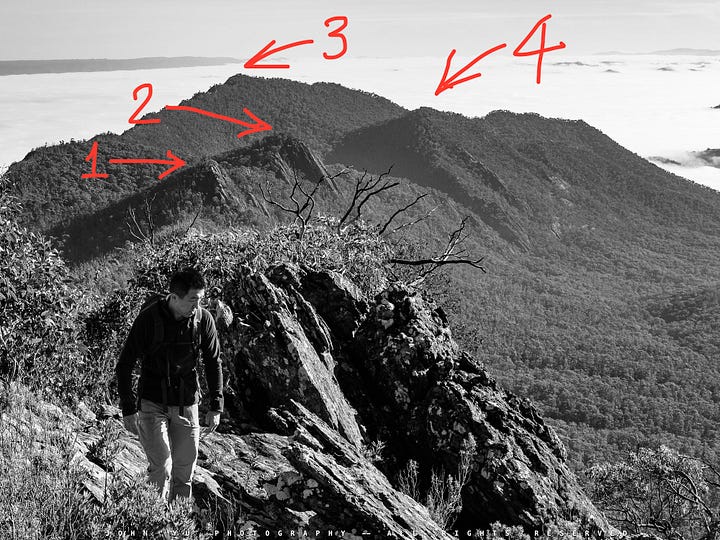 Razorback Track
The Razorback track along the ridge was also rocky and required some scrambling.
The Farmyard - Descend down back to Jawbone carpark and then Cooks Mill Campsite
Once we reached The Farmyard, the terrain and the vegetation changed in something more familiar. The Jawbone Creek Track and Saint Bernard's TrackThe were made of steps. The descend was harder than expected because our fatigue kicked in.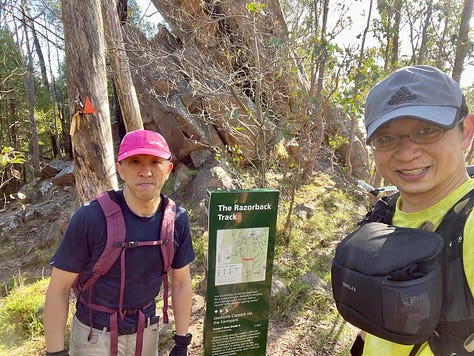 Now we've done the Southern Circuit, we'll certainly come back to do the Northern Circuit next!
Tips
Definitely avoid doing this track when it's wet.

Wells Cave is ascending only.

Need to bring 2L of water. More when it's hot weather.
References
Thanks for reading John's 100 Out of 50! Subscribe for free to receive new posts and support my work.