Melbourne isn't known for aurora. To our surprise, it can be "seen".
Before Karen and I went to Tasmania in March for our holiday, I read some something online by pure chance about seeing aurora in Tasmania. We both got excited. Sadly, the timing wasn't right and we didn't see any of it. When we returned home, I turned obsessed and made it a mission to figure out if the aurora could be seen within driving distance in Melbourne.
The short answer is "yes", sort of.
I did some research online and joined a couple of Facebook groups1. In summary:
Auroras (or "polar lights") are caused by solar wind. Its strength is measured by a K-index. Like other weather forecasts, Bureau of Meteorology publishes a webpage that shows its observations and forecasts.

There is Aurora Borealis at the North Pole and Aurora Australis at the South Pole.

Since Aurora Australis is a South Pole phenomenon, the more south you are the better chance it is to spot it. That said, it's not an absolute thing. I saw people from places like Grampians and Werribee posted amasing aurora photos.

To see it, you need a cloudless clear sky and stay away from light pollution.
Light pollution inside the Port Phillip Bay is too strong. Any south facing location along the coastal line outside the Port Phillip Bay will be a good candidate.
Our pick was Cape Schanck. Then we waited. We tried on 24 March 2023. Result was okay but not great. And we waited again…
There are numerous websites and mobile apps that can help. I spent 10 mins to vex a few of them and picked a freemium phone app called, obviously, "Aurora".
It shows long range forecasts, cloud condition, a "heat map" of the potential coverage, etc. On April 24, 2023, the K-index was above 6 (high!) and sky was unbelievable clear.
Sunset was at 5:40pm. Astronomical twilight2 was at around 6:40-7:10pm.
We arrived at the carpark at around 6:15pm. We decided to walk down to Pebble Beach. There was still twilight and it was Crescent Moon.
I later saw people on the Facebook group said they went to the same place around the same time and could see the aurora by their naked eyes. But we couldn't. Maybe we didn't look hard enough. Maybe it was our poor eyesight. Regardless, the camera had no problem to capture it.
Here another take of the aurora against Pulpit Rock.
By the time we headed back home at around 8:30pm, the crowded started showing up and the carpark was full. Everyone were taking photos. And for those walking around, we needed to use our torches. I guess we had ruined a few of people's photos here and there.
Most half-decent torches have a low-lux red mode which reduces the disturbance to a minimum. You can see the faint aurora in the background in the first shot below.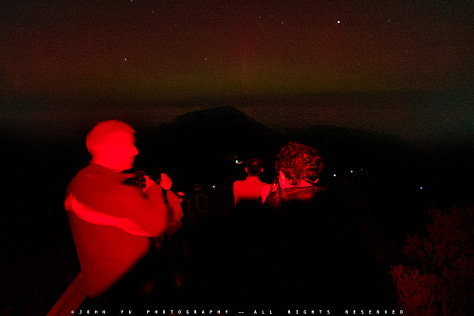 On our way back, the moon was setting. But we noticed it too late. I didn't have time to set up my tripod and only got blurry handheld shots.
Thanks for reading John's 100 Out of 50! Subscribe for free to receive new posts and support my work.